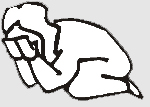 Photo by The Print Shop 21
Cover Up
Our eyes meet.
My voice quivers.
Can I contain myself?
Will he see past this pitiful mask
and into a bruised soul?

Will he hear the silent anguish
dormant for years,
ripped open like a bolt of lightning
by an innocent image,
triggering an intense explosion
of heavy-hearted tears?

Will he sense the piercing torment
that has gashed these fragile veins,
rupturing a distressed heart?

I manage a smile,
he smiles back.
My secret is safe.

Alone, I cry.




Copyright ©2003 Mary Davila