Angelic Tranquility
As I lay here, motionless and tranquil,
I take sweet repose, in heavenly peace,
my eternal reward, finally at hand.
I'm filled with amazement,
as I peer from above
at such a warm gathering,
remembering my life,

surrounded in the glory of heavenly delight,
with Saint Michael the Archangel,
Saints Gabriel and Raphael,
and all the choirs of angels,
within an aura of brilliant emerald-green light.

A luminous green hue radiates warmth,
as cherub wings embrace each other,
wrapping me in angelic song,
with God in our midst.



Copyright©2002 Mary Davila


A note about this poem

We were supposed to have our regular St. Vincent de Paul meeting on the first Saturday of October. But it was postponed until the second Saturday in October. Then, ironically, the second Saturday turned out to be the day of Bob's funeral. So the members of St. Vincent de Paul did gather, but not at our regular meeting, instead, at his funeral. So we were all together, only Bob was there spiritually and didn't miss our meeting after all. In the poem, Bob is speaking from heaven.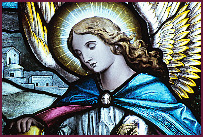 Photo from The Print Shop 21