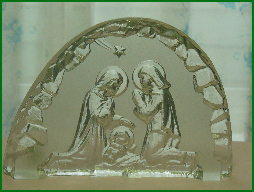 Photo by Mary Davila
'Twas The Week Before Christmas
'Twas the week before Christmas and all through the town,
little children were searching, to and fro, up and down,
with visions of santa, his reindeer and elves,
while the story of Jesus, hid deep in the shelves.

A store in the mall, one doll on the shelf,
restraint's not an option, each man for himself.
Christmas shoppers go wild, lose all self respect,
attacking a rag doll, her arms disconnect.

In the Church with the steeple, no crowds to be seen,
just a few people, adore the nativity scene.
Admiration and awe, they gaze with pure love,
on this Heavenly Babe, sent from Father above.

While out in the bar, there arose such a clatter,
I peeked in to look, to see what was the matter.
Merry Christmas repeated, again and again,
an affair to remember, by all jolly men.

Christmas parties are plenty, all dressed in their best,
having a grand time, inhibitions suppressed.
I can't help but wonder, why no one has said,
Happy Birthday Dear Jesus; neglected instead.

Celebrating His Feast Day, with lobster and steak,
Baby Jesus forgotten, with no birthday cake.
No gifts for this Infant, our Savior and King,
He wants not a sports car, a video or ring.

A simple act of kindness, to brighten someone's day,
neatly wrapped in hugs and smiles, for this special day,
is a gift Our Lord would treasure, and it's free of charge,
mailed "first class" to Jesus, just beyond the stars.

Jesus is the reason, let there be no doubt,
why we have this season, what it's all about.
He loves us all so dearly, wants to set our hearts aflame,
Looking down upon us, He calls us each by name.

Now Mary! Now Terry!
Now Sammy and Tammy!
Go Shelly and Kelly!
Go Joey and Chloe!
To the top of the world!
To the ends of the earth!
Don't dash away! On my day!
Remember me today!




Copyright ©2003 Mary Davila