Joey's Hug
My heart just aches with sorrow, such,
for I love you, so very much.
I beg you Joey to forgive;
embrace this little hug I give.

This little hug, not small at all,
oh so special - all enthralled.
You see it overflows with love,
filling all the skies above.

A request I've made to my angel near,
of a daily run - oh so rare;
deliver this hug with utmost care,
to my baby - oh so dear.

When in heaven, we finally meet,
we'll have our hug - oh so sweet.
My precious babe, I'll hold you fast,
as I gaze upon you, at long last!

Copyright©2000 Mary Davila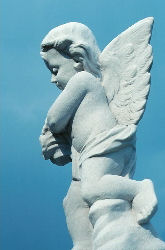 Photo from The Print Shop 21