In Lebanon
In Lebanon, the children cry
as missiles hit and fathers die.
Their brothers, sisters, mothers too
can't be dispensed from death's pursue;
they huddle close as bombs fly by.

Our souls have meshed; the human tie
unites us all within God's eye.
I warn my heart and walk with you
in Lebanon.

I hear the roar blast through the sky.
Our throbbing veins keep asking why.
Amid the rubble, your son's shoe;
the stench of death has filtered through.
Our mothers weep and say goodbye
in Lebanon.



Copyright ©2006 Mary Davila


First published in The Extension
Bag End Poetry Relay 2006
(Bag End Poet of the Year 2006)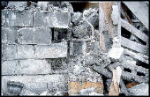 Photo by The Print Shop 21