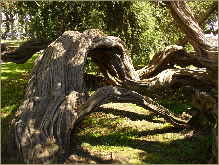 Photo by Mary Davila
A Tropical Playground
Frisky breezes whistle a child's tune
as exotic flowers play duck duck goose
surrounded by giggling banana plants
and mischievous bamboo trees, frolicking in pj's.

Streaming waterfalls rollick, saturated with laughter
as the Hana Rain Forest fearlessly runs
into a tropical ritual, alive with folly,
mocking a myth of mature existence,
a prankish child as its muse.

The merry monarch butterfly, soaring overhead
spots a young Banyan Tree whimpering,
it's roots growing much too fast.
To the rescue was the joking Hawaiian dentist
who quickly performed an emergency root canal.

Now all is well again as nature continues its
tomfoolery with games of hopscotch,
blind man's bluff on lava sea cliffs and
hide and seek, in a forest hidden by trees,
their large buttresses
swaying with bright red hoola hoops!



Copyright©2003 Mary Davila