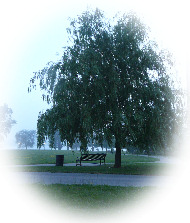 Photo by Mary Davila
Annie's Song
My silent teardrops were lost
amidst the weeping willows,
draped in emerald sadness,
falling gently in the breeze.

I carried you for eight short weeks
when God took you so suddenly.
As your life within me swiftly unraveled,
our bond was sealed for all eternity.

Our entwined hearts,
designed with complex tapestry
with edging of satiny fabric,
portrayed picturesque love.

Our souls, delicately woven together
with a silken strand of love
and the finest fancy fiber.
meshed as one.

You're a part of me I'll always cherish;
my love for you will never fade.
Why do you cry, oh weeping willow?
My little Annie is with the Lord!





Copyright ©2003 Mary Davila