A Natural Phenomenon
Take my hand,
lavish me with conversation
as we stroll along
on this soulful evening.

Listen to the whispering leaves
falling in love.

Inhale the passion of
fragrant flowers, drunk with beauty,
sober with contentment.

Sustain me with your strength,
as motionless rocks,
sleeping for years,
roar with spirit.

Catch the mesmerizing flight
of the peacock butterfly
absorbed in an orange blossom.

Our psyche's,
parted from reality,
eavesdrop on nature.



Copyright©2003 Mary Davila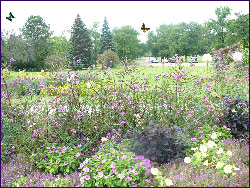 Photo by Mary Davila