Aloha Makai
Brilliant with crystal blue waters,
the incoming tide flirts with romance
on the shores of Maui.

Thunderous waves billow,
drenching our exposed toes
with a rush of excitement.

Hand in hand, sharing the moment,
our heels buried in fine black sand,
as our laughter is caught in the breeze.

Time honored ocean song
echos the splashing chorus
of the rippling waves and dancing whales.

Breathing in warm balmy memories,
we join in a hula-hula dance,
reviving us from an invisible life.

Cappuccino, the finest of all coffee,
caps the evening on a moonlit cruise,
savoring the flavor of a leisured day.

At day's end, seashells swallow sweet whispers,
preserving our love,
forever recalling our treasured gift.


Copyright©2003 Mary Davila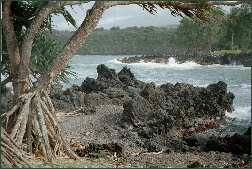 Photo by Mary Davila